"The Road to Playing Cool Blues Licks,
Mastering the Blues Scale, Improvising and Getting Motivated."
"It's The Licks… And What's Behind The Licks"
The "50 COOL BLUES LICKS IMPROVISATION PACK" will expand and enhance your guitar vocabulary
and get your improvising skills to the next step!
Are you stuck playing in just one shape?
Now you will learn to play all over the neck.

You will not just learn 50 Cool Blues Licks that will really spice up your playing,
but you will also learn what's behind the licks and what to do with those licks.
HERE'S THE VIDEO LESSONS DOWNLOAD PACK CONTENT:
– 50 COOL BLUES LICKS (5 Videos of 10 Licks each)
– VALUABLE LICK EXERCISES
– CONNECTING THE LICKS
– MAKE UP YOUR OWN LICKS
– THE ALCHEMY OF BLUES SHAPES PART I (Master The Blues Scale inside out)
– THE ALCHEMY OF BLUES SHAPES PART II (Blues Improvisation)
– LICKS & SHAPES
– PRACTICE, LIFESTYLE AND PRODUCTIVITY TIPS
– TABLATURE EBOOK (50 Pages In PDF-Format)
– PLAY ALONG TRACKS IN MP3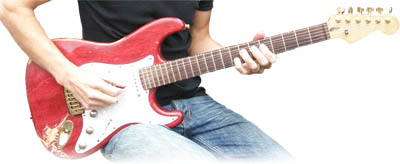 And this will be your journey:
YOU WILL LEARN TO
Play 50 Cool Blues Licks that you can use for your own solos and improvisation.
Explained slowly in close up so they're real easy to follow and understand.
You can use the play along tracks to practice with.

– Master the 5 Blues Scale Shapes and how to use them for improvising. A real game changer!
This section will really help you to learn the 5 blues scales shapes inside out with tips, tricks and great exercises.
– Connect licks together to create different combinations. Build longer licks or even a guitar solo
and go from one end of the neck to the other.
– Make up your own licks by breaking up the licks, turning them around and make up new ones
using hammer-ons, pull-offs, slides, bending, etc.

– Valuable exercises that will help you learn to play the licks thoroughly around the entire fretboard.
Get into the skill of playing everything in every key. Learn to practice like a pro.
– Understand how the licks fit into the blues shapes, how do they come into being and belong to particular shapes.
The assignments and tips will improve different aspects of your playing.
– Stay on top of your game with practice, lifestyle and productivity tips to keep you motivated and inspired at all times!

All these tools will take your improvisation skills to a new level and make you become a better guitar player.
It will change your playing forever!
Total time of video lessons: 190 MINUTES
– The videos can be watched in wmv (windows) or mp4 (mac) format.
– The tablature Ebook comes in a PDF file.
The Ebook contains only tablature and no standard notation.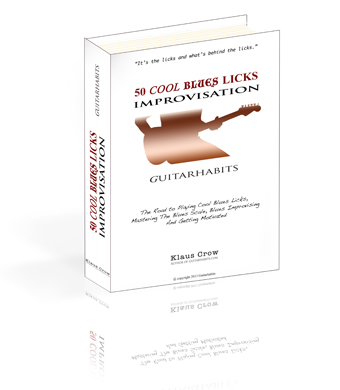 The Tablature Ebook contains all 50 Licks, Scale Shapes Workouts, Exercises, Tips, Tricks, Improvisation Examples and more.
Get out of your rut and advance your guitar playing today!
Price: $29
COMING REALLY SOON!
var _gaq = _gaq || []; _gaq.push(['_setAccount', 'UA-39645790-1']); _gaq.push(['_trackPageview']);
(function() { var ga = document.createElement('script'); ga.type = 'text/javascript'; ga.async = true; ga.src = ('https:' == document.location.protocol ? 'https://ssl' : 'http://www') + '.google-analytics.com/ga.js'; var s = document.getElementsByTagName('script')[0]; s.parentNode.insertBefore(ga, s); })();
https://www.50coolblueslicks.com/uncategorized/50coolblueslicksimprovisation/